Holy week is fast approaching and once again we are given an opportunity to reflect on both the good and bad things that we've done this past year. Although Holy Week is a period of contemplation, it's also a time to relax and take some time off from our busy schedules, a chance for us to be with our family and friends. What better way to spend time with them than to take a trip. When you're traveling with kids, it's important to pack carefully. So as not to forget anything, try to make a list first of the must-haves and take it from there.
Clothes should be sufficient. Bring patterned clothes and dark colors instead of whites and dress in layers rather than bring bulky sweaters. Also bring pajamas for the children, jackets, socks, thermal pants, hats, sunglasses, and shoes. Bring soap, toothpaste, lotion, and sunscreen.
Unilab
, the biggest pharmaceutical and healthcare company in the Philippines, with its portfolio comprising some of the biggest prescription and consumer healthcare brands, has the practical
Celeteque Dermoscience Hydration Travel Kit
which includes facial wash, toner, and moisturizer. For those traveling with a baby, don't forget extra diapers, wipes, and baby wash such as Unilab's TriSoPure – a mild gentle cleanser formulated with pH 5.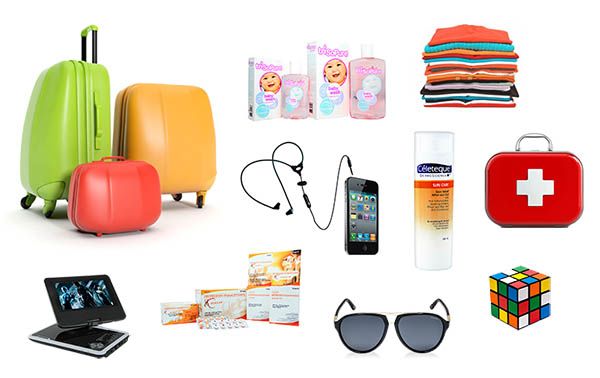 It's a given to bring food, water, and essential vitamins and minerals like
Conzace
, and other medicines. Never forget a first aid kit which includes bandages, plasters, thermometer, insect repellant, painkillers, sterile gauze, and Calamine lotion. Medicine for headache, fever, and flu like
Biogesic
, should also be brought. Aside from those, an emergency kit containing items like flashlight, extra batteries, blanket, and plastic bin should always be present. To counter the long hours traveling by land, air, and sea, bring gadgets like laptop with a DVD drive, portable DVD player, tablets, MP3 player, and game console. Add to that some books and magazines. Don't forget your adaptors and of course your camera.